Autobiography:
Edward J. Smith
Born:
13th, April, 1940, London, England
Early years:
I had an older sister and a younger brother. Our house suffered bomb damage in 1945, the family survived.
I attended regular primary/junior schools.
When I was seven my Dad gave me a little chuck glider kit. I assembled it and it actually flew, sort of. I have been building model airplanes now for the past 65 years. My Dad had no idea what he started with that airplane.
Growing up:
At fifteen I left school to start an apprenticeship as a Tool and Die Maker. Upon completing my apprenticeship I worked two years as a Toolmaker. I then graduated to Tool Design. The toolmaking skills improved my aircraft building skills.
During my teens I belonged to a Boys and Girls youth club. We had several holidays in Europe. During one of these holidays in Switzerland, in 1961, I met Marion Carter. We married four years later, 8th, May, 1965. We have been together for fifty two years.
I wanted to improve my career prospects. I accepted my first Tool Designers position with Ronson, the cigarette lighter company. After Ronson I worked with several companies.
Middle years:
When we married we purchased a new home. Everything was working for us. However we wanted to do something drastically different, the word EMIGRATE came up often. We decided to emigrate to Canada. Our first son was born in1968. So, we made the decision. The house was sold. Our second son was on the way. Not the smartest timing but there it was.
Canada years:
I arrived in Toronto, Canada, 13th, April, 1970. I had nowhere to live, no job to go to and did not know anybody. I spent the first few nights in sleezy motels. I contacted some headhunters. Within one week I was working as a Tool Designer with Westinghouse Turbine and Generator Division, in Hamilton, Ontario. I was living temporarily in the YMCA. Now employed I moved to an apartment. My wife and our first son arrived in June. We were now a family again. In 1971we purchased a new home in Brantford, Ontario. Our second son was born in September 1971. Throughout the seventies and into the eighties I experienced the lows of unemployment and the highs of Engineering Management positions. During the tough times my wife Marion did not complain, she dug in and contributed to the household finances. In 1990 I decided to control our own destiny. I Started "Avia Tool Design" a consultancy for the Tooling Industry. I worked from home. This was the best thing I ever did. My only regret is that I did not do it sooner.
Modeling years:
In Britain I flew free flight and control line. I did not enter competition though. Once settled in Canada I became interested. In 1973 I built my first radio, a Heathkit. I joined a local club. Pylon Racing was just getting established in this area. The "United Pylon Racing Circuit" was a racing group centred around Niagara Falls, Ont. and Buffalo, NY. Q500 and F1, were flown.
The UPRC ended around 1999. While it was active I competed around the circuit generally finishing in the middle of the pack. I did have some good placings though. Also during this time I competed and helped organize the Canadian National Championships. I was the MAAC Zone Director (Area VP) and Pylon sub-committee chair.
After the UPRC disbanded I traveled to race on the "CAPS" circuit around Detroit/Toledo. In later years the CAPS circuit moved down to the Cincinnati area. This involved a lot of travel and I curtailed my involvement.
During the nineties I was a five time member of the Canadian F3D team. I competed in World Championship events. 1993 Austria, 1995 Muncie, 1997 Czech Republic, 1999 Sweden, 2001 Australia. In 1999 the Canadian team placed fifth in Sweden.
At the 2000 AMA NATS I placed fifth in Q40. My best individual placing.
With age, the increased traveling and nobody to practice with, my racing activity decreased. I satisfied myself by working the major events, the AMA NATS in particular. For the past several years I served as Start Line CD in Muncie. The highlight of this activity was working the start line for the F5D World Championships at Muncie in 2010.
During all this time my wife Marion has supported me 100%. For that I am truly grateful.
I am now 73 years old. My role now is being a spectator.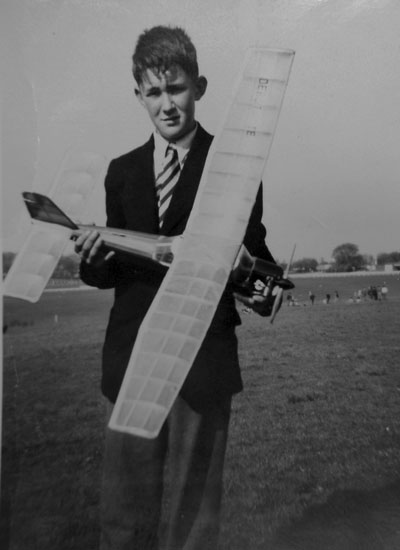 Ed Smith - at Epsom Downs Outside London, August 1954, Holding a Diesel Powered FF Model He Built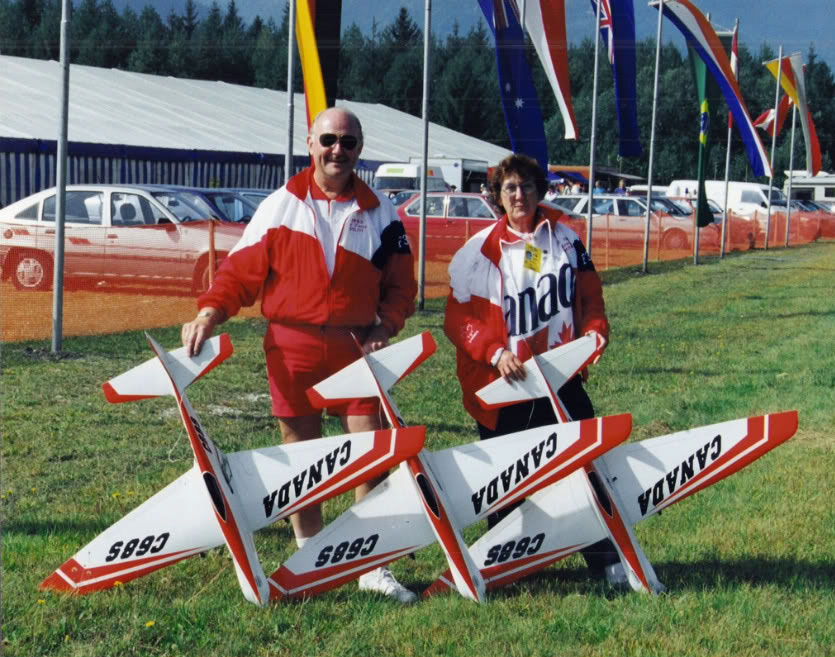 Ed Smith - at the 1993 World Championships In Austria With His Wife Marion